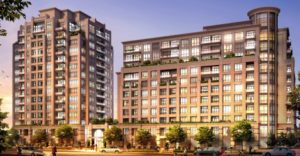 Description:
From Fontana Condominiums:
Fontana Luxury Condominiums, developed by H & W Development Corporation is within one of the most prestigious areas of Markham. With a wealth of experience upon which to draw, H & W is committed to the pursuit of excellence in quality, design and value, and will deliver homes that will far exceed the expectations of home owners at Fontana. The vision and passion is shared by every member of H & W's core team, including the management, architects, engineers, designers, sales and marketing team, development, and construction team. Together they have conceived a product that is set to reach new heights through innovative adaptation, architectural diligence, social sensitivity and green consciousness.
Fontana's strategically conceived master plan and its prime location will contribute to a thriving residential lifestyle, and set the stage for a new landmark address in the heart of Markham.